Down near the Plaza Hotel at the southern part of the park, they are still unfurling at 9AM.
You can see the unfurled gates in the foreground and the procession of folks on the bridge in the background.
The leftmost gate in the image in the back is about to be unfurled.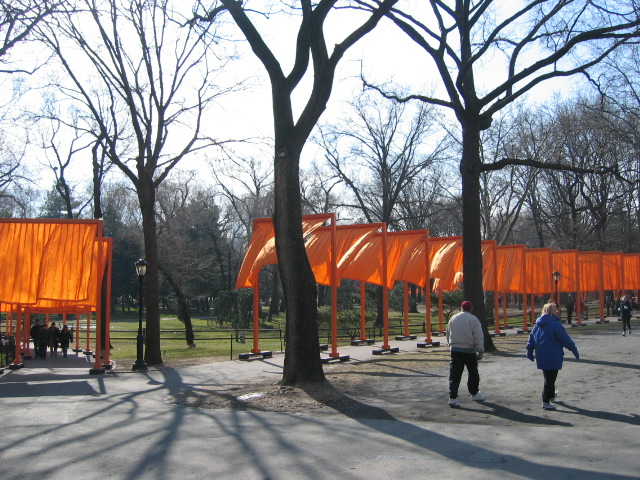 Still a bit early on Saturday, the sun filters through the gates near Sheep Meadow.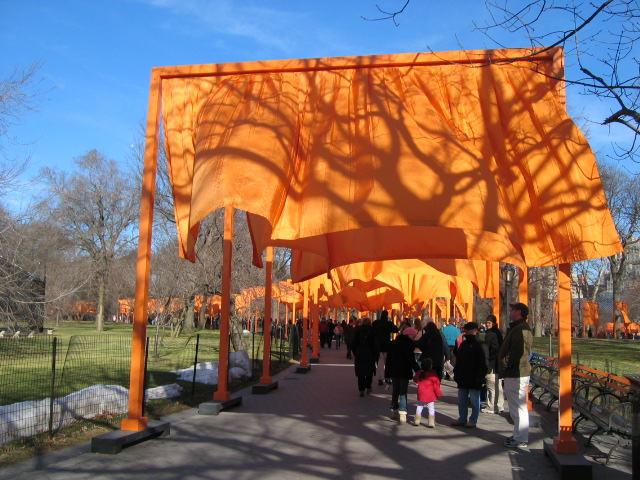 These are among the widest gates. Some very narrow ones were less than 7 feet across. All were custom designed to span the paths they straddled.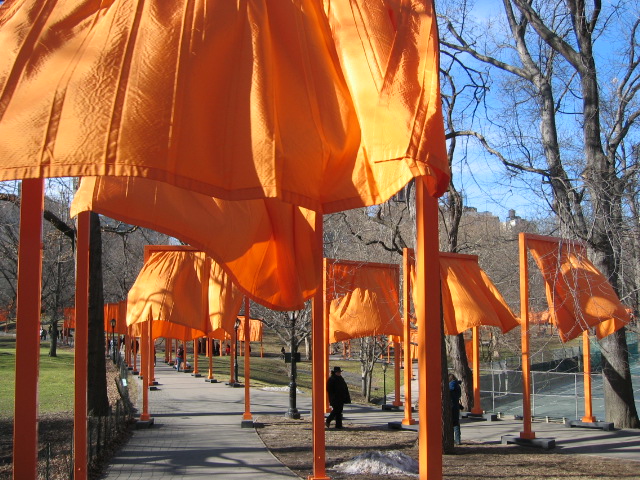 I loved when the breeze caught them and made them flutter.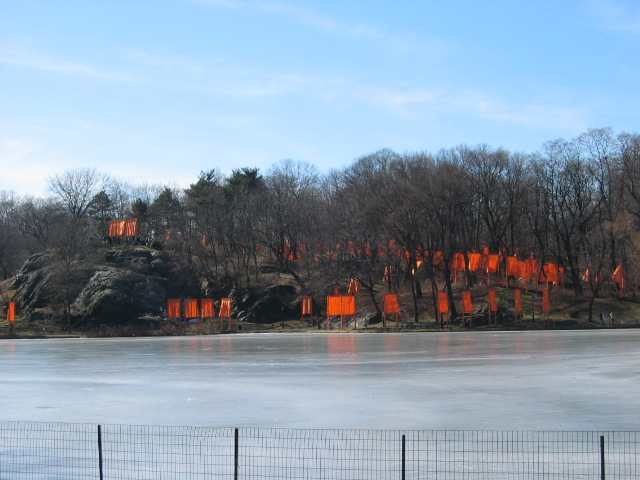 Sunday, my cousin and I went to the north end of the park at 110th street.
This was a good plan, because we walked south all afternoon and the sun filtered.
through the fabric, which had a beautiful and luminous effect.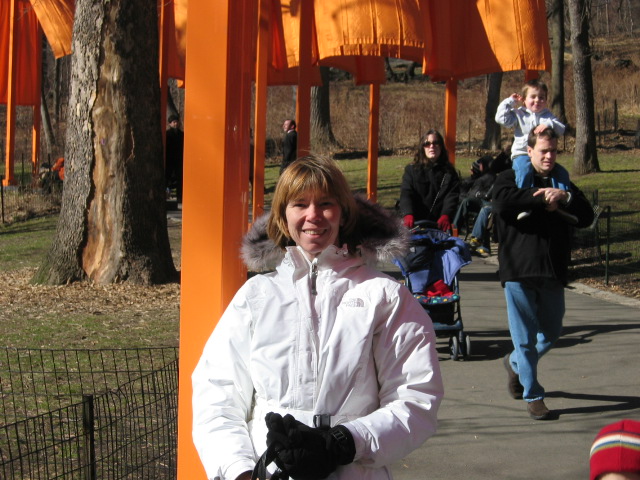 Yours truly. I just had a great day in the sunlight, enjoying the spectacle and
the other spectators. The crowds of people added a lot of fun to the day.
Also, the sheer numbers of people in the park added to the festiveness of the day.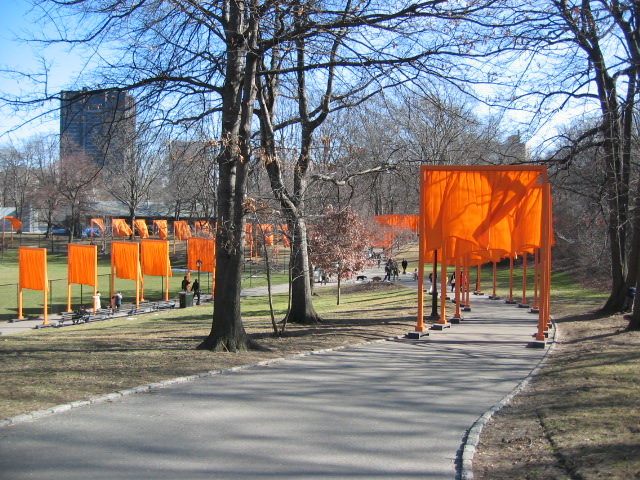 This was a quiet moment up near 100th. The northerly end of the park was quieter and less crowded.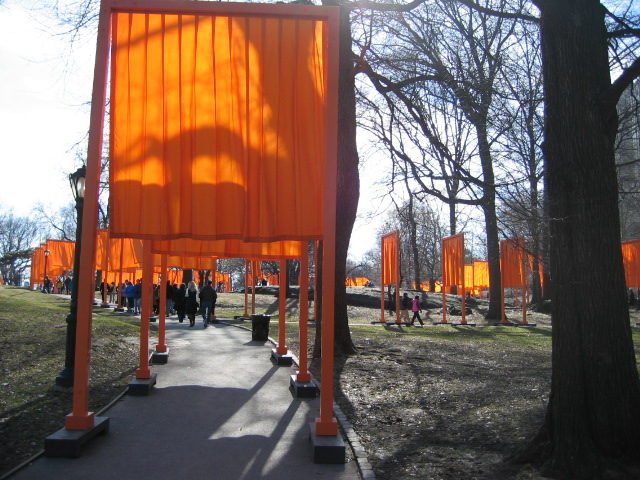 This is that luminous effect of the sun through the fabric.


I went back on Tuesday and discovered that my parking karma does not just work on parking cars.

I am not a patient person. I don't like waiting in a line for anything, especially if the line is over a mile long. It was a beautiful day in the park and nothing would have me standing in the same place all day when there is so much to see. I noticed a huge line snaking from the fountain to the Boathouse. I did not think all of New York got hungry at the same time, so I asked someone in the line what was going on.

Seems the artists were going to be giving autographs. Now, I am not an autograph person, but my curiosity was piqued. I figured since I was not going to get an autograph, I'd just walk to the front and see if they may have set up a table or something outside. It really was a beautiful day. At the head of the line were some trailers. I decided to walk by them, not seeing the artists at all. The door swung open and both of them came out!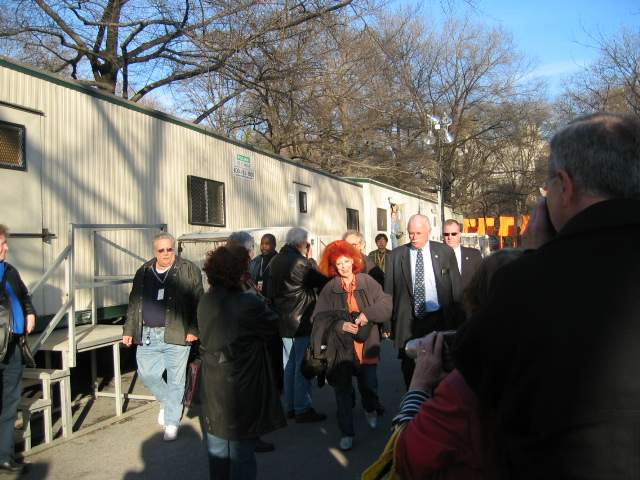 I had the camera up as fast as I could. In the first photo, you can barely see her hair, but he's standing there next to her with an open coat and white shirt. Then, as they moved toward me (!). I thanked them and said it was beautiful. I'd never be a paparazzi. I like eye contact too much. She smiled. I got her picture. He'd moved behind her. Then, in an instant, they were in the boathouse.